Be the 1st Five Delegates to receive the congress ticket to IUMS 2017 Congress, Singapore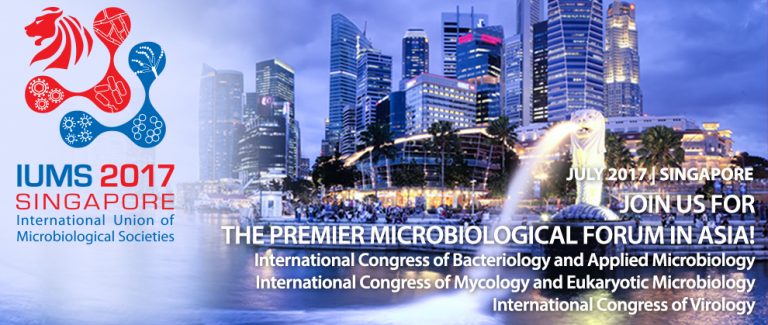 On behalf of the Organising Committee of IUMS Congresses 2017, I extend a hearty welcome to all microbiologists to Singapore. This is the first time IUMS congresses being held in Asia outside Japan. Singapore being a transportation hub and a global convention centre, participants may enjoy the affordable international flights and local accommodations. We strive to provide a platform for the exchange of knowledge and opinions of professionals from academia, industry and government, and for fostering international collaborations.

We are offering scholarships to young budding microbiologists providing an opportunity for their exposure to scientific endeavour, feeding their aspiration after knowledge, discovery and invention.

For foreign delegates, Singapore being at the cross road of Eastern and Western culture, Northern and Southern hemisphere, you could sample every type of cultures and cuisines within a 716 Km2 land area, with convenient and affordable public transport systems, covering every corner of the country.

I look forward to receiving all of you here in 2017. Hereby wishing you have a wonderful Christmas and a Happy New Year!

Dr Yuan Kun Lee
President
Organising Committee of IUMS 2017
Follow us on twitter

@IUMS2017

#IUMS2017

Stand a Chance to WIN 5x Congress Tickets to IUMS 2017

 

How to win?

1. Visit IUMS 2017 website, click here.

2. Click here to join the mailing list before 31st December 2014.

5 lucky winner* will be notified by the congress secretariat via email in January 2015.

*Terms and Conditions Apply
The winners are entitled to COMPLIMENTARY registration fee to the congress (exclude accommodation and flight tickets).

You are encouraged to circulate this email to your colleagues or peers in the field of Microbiology who may be interested to participate for the luck draw.

For more information, visit www.iums2017singapore.com or subscribe to our mailing list.
| | |
| --- | --- |
| Organised by | Manage By |

| | |
| --- | --- |
| Supported by | Held in |
For congress enquiries, email info@iums2017singapore.com or call +65 6411 6670.
Annual Scientific Meeting 2014 of Singapore Society of Pathology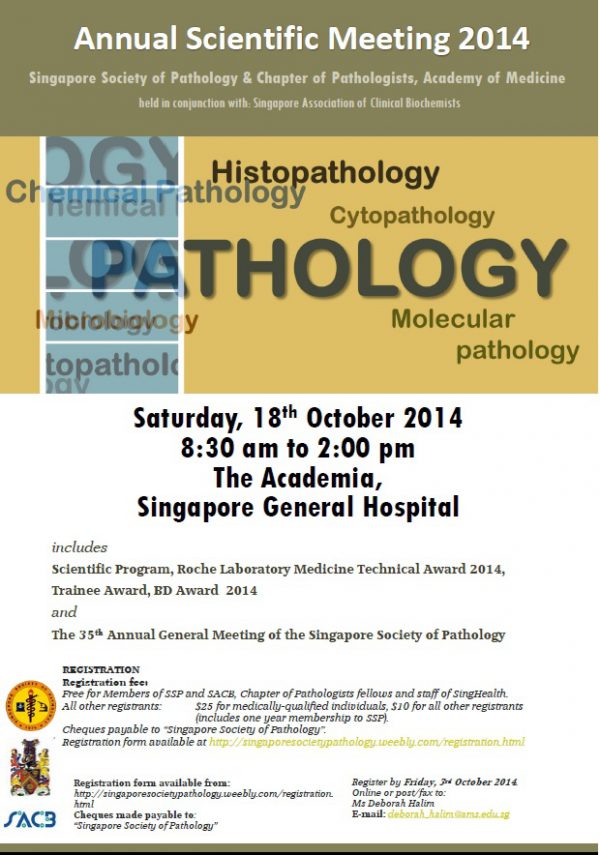 Date: 5 December 2014, Friday
Time: 7 pm
Venue: Tiffany Cafe
Furama City Centre
60 Eu Tong Sen Street
Singapore 059804
Tel: 65315366
SSMB is organising a social event that seeks to foster closer links between its members. This event will held at Tiffany Café (Furama City Centre) on 5 December 2014, 7pm. Tiffany Café serves an International buffet and a la carte dishes from a Halal kitchen. More details can be found here at http://www.furama.com/citycentre/Dining/Tiffany-Cafe-Restaurant.
This event will be free for all paying-members, new members or those who renew the SSMB ordinary membership ($25/year).
To register for this event, please write to Ms Phoon Meng Chee (meng_chee_phoon /@/ nuhs.edu.sg) and Hsu Jung Pu (hsu_jung_pu/@/nuhs.edu.sg) before 31 October 2012. In your email, please indicate the participant's name and contact number.
Be Healthy, Be Eco with EM Talk
Date: 27 July 2014 (Sunday)
Time: 1:30 – 4 pm
Venue: Woodlands Regional Library – Auditorium
900 South Woodlands Drive #01-03
Woodlands Civic Center S(730900)
(5-10mins walk from MRT Woodlands Station)
Speaker:
Professor Teruo Higa developed EM Technology 30 years ago at the University of Ryukyus, Okinawa, Japan. He is the author of "an Earth Saving Revolution" I (1996) and II (1998), "Our Future Reborn" (2007) and several other books on EM. He is currently active in the promotion of EM in more than 120 countries.
To download the circular, please click here.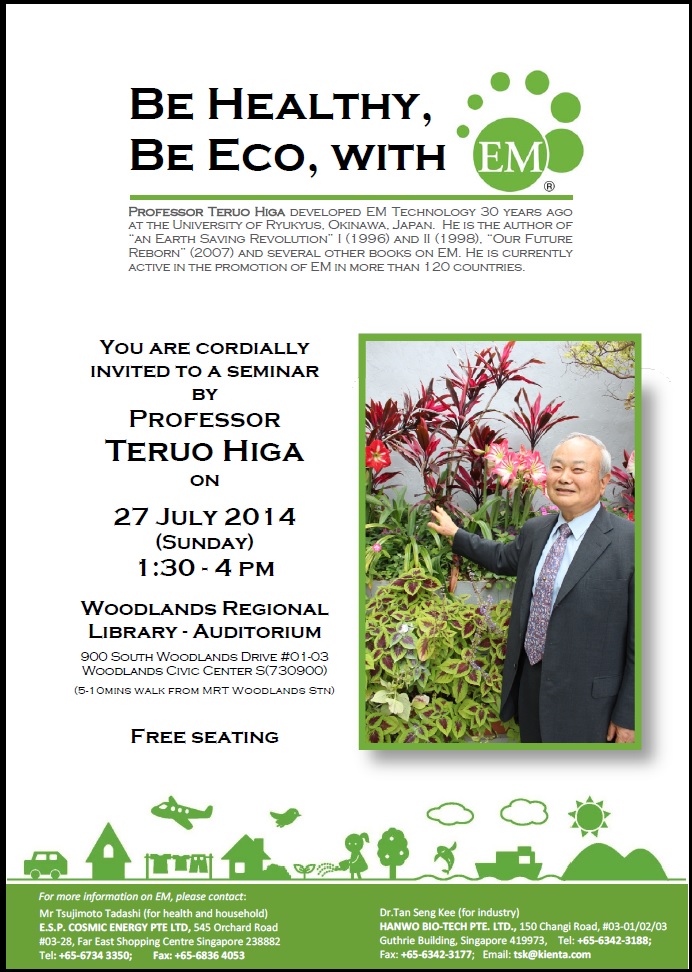 Talk on Cell Lines and Roller Apparatus for Cell Lines
Date: Tuesday 10 June 2014
Time: 2pm to 4pm
Venue: National University of Singapore,
Yong Loo Lin School of Medicine, Department of Microbiology,
5 Science Drive 2, Singapore 117597
(Seminar Room on Level 2 of MD4)
Programme
2pm: Registration
2pm to 4pm: Topic: 'Knowing more about cell culture: Utilization of membrane technology to maximize antibody production in high-density cell cultures.' by Buddy Whitman (Wheaton USA)
4pm: Tea ( Sponsored by Chokim Scientific (S) Pte Ltd )
To register, please email to:
Low Jian Liang, micljl /@/ nus.edu.sg ( for Microbiology staff & students )
Benson Chua, miccyl /@/ nus.edu.sg ( for SSMB members )
Elissa Chan, elissachan /@/ chokimscientific.com ( for others )
Title: Utilization of membrane technology to maximize antibody production in high-density cell cultures.
Dr. Buddy Whitman1, and PhD, Dr. David Dvorak
1Science Liaison, Wheaton Industries, NJ, USA
Abstract
Discovery scale, high-throughput methods for in vitro antibody and protein production can be time intensive, expensive and typically require fixed equipment such as shakers, pumps, hollow fiber bioreactors or stir tank reactors. In these experiments, we evaluated the membrane flask technology available in the CELLine™ Bioreactor Flask. CELLine flasks allow for high-density cell culture as well as concentration of the expressed protein or antibody from various mammalian, insect and hybridoma cells lines. This discussion will include a comparison of specific performance metrics of the CELLine flask versus standard suspension shake flask and roller bottle methods. Specific growth and performance data will be presented on CHO cells and hybridoma cells. Additionally, the quality of product will be discussed as it relates to assay integrity and antibody specificity, ultimately demonstrating the merits and superiority of membrane flask technology for convenient, inexpensive high-throughput antibody and protein production.
Biography
Dr. Buddy Whitman, PhD currently holds the position of Science Liaison at Wheaton Industries. Dr. Whitman earned his B.S. in Biology from Eastern Washington University where his studies focused on physiology and his research focused on the endocrinology and the physiology of cold acclimatization. Following his B.S. he moved on to Boise State University for a Master's degree focusing on the neuroendocrine underpinnings of early developmental stress. His PhD dissertation research at the University of North Carolina at Chapel Hill focused on the neuroimmunologic consequences of chronic ethanol exposure in a model of alcoholism. Dr. Whitman received several fellowships and awards during his tenure at UNC-Chapel Hill including and NSF STEM award, the prestigious APA Neurobiology fellowship and a NIH funded NRSA merit award and maintains membership at Sigma Xi, RSA and the Society for Neuroscience. Dr. Whitman's current research focuses on optimization of small to industrial scale cell culture. He currently is working with collaborators at many top universities in the US as well as several commercial entities.
Singapore Society for Microbiology and Biotechnology
41st Annual General Meeting